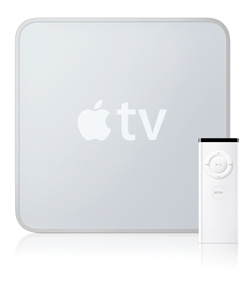 With the initial buzz over
Apple's movie rental operation
giving way to speculation about its success or failure, some have cited it as the real next-gen movie format, while others have pointed out some important problems with the current state of online video distribution, warning that big improvements are needed.
While it's probably fair to say there are good points on both sides, the short history of digital distribution shows that a Video On Demand model (rental) should be
more successful
than selling movies. With the limitations imposed by DRM, and lack of portability from set-top box to DVD, very few people are interested in buying downloaded movies. They offer tighter restrictions for a similar price, and without the extras found on the typical DVD.
Rentals, on the other hand, are quite competitive because long term viewing concerns don't apply. The conveniencence of renting a movie without leaving your living room can easily outweigh the comfort with more familiar technology like DVD. In fact, when coupled with a well designed
set-top box
, VOD from the internet doesn't have to feel any more foreign than similar offerings from pay TV providers.
Amazon
Unbox director Roy Price says
"One thing that's going to evolve to some extent is the home environment and how easy it is to get video from the Internet to your TV,"
adding
"There's no question that people like to watch movies on the TV."
At the same time, the success of any distribution model will depend on studio participation to ensure both selection and competitive pricing. Fortunately the studios appear open to the idea right now, especially since it's it's not yet a significant enough market force to impact DVD sales.
According to Ron Sanders,
Warner Home Video
president,
"Even if it was 100% cannibalistic, there would not be much of an effect."