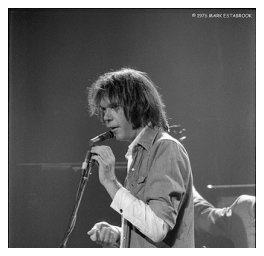 As music labels sit by and watch their decades old business model crumble before their eyes, yet another artist is attempting to make the leap past
CD
technology. Neil Young has apparently
decided to skip a traditional CD release
for the first in a series of releases which are intended to form a retrospective of his career from the 1960s through the present day.
"I know it's in technical production now, but it's only coming out on Blu-ray and DVD,"
he said during an interview at the Sundance Film Festival, adding
"There won't be CDs. Technology has caught up to what the concept was in the first place [and] how we're able to actually present it."
Reportedly, Young's issue with a CD release has nothing to do with complaints about lower CD sales or
P2P
downloads. Rather it's due to the audio CD's single format - audio - versus the multimedia aspects of DVD and Blu-ray formats, combining music with both video and still images, as well as allowing far more interaction with the listener.
While DVD isn't a particularly compelling format for many audiophiles, mostly due to support for HD audio being optional in
DVD-Video
, and
DVD-Audio
never really getting off the ground. Blu-ray and
HD DVD
, on the other hand, could combine they type of mainstream visibility experienced by DVD-Video with support for high quality audio comparable to DVD-Audio as a standard feature.