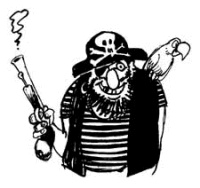 Earlier this month, four men were found guilty in a £5 million illegal operation in South East England. The pirate
CD
traders had imported professional-looking discs from the Czech Republic which were then sold over a wide area. The recording industry's UK and international trade bodies,
BPI
and
IFPI
, welcomed the verdict at
Snaresbrook Crown Court
the found the men guilty of conspiracy to infringe copyright.
The operation involved the manufacture and distribution of unlicensed pirate urban music compilations. Some of these became brands in their own right with the "In The Club" series running for more than 15 editions. The IFPI's forensic facility was used in the case to determine the origin of the music CDs, which was a manufacturing plant in the Czech Republic.

The operators of the plant then identified the four UK traders. Waseem Mir was arrested and his storage facilities raided by police. During that raid 25,000 infringing discs were recovered and again samples were sent off for forensic examination by IFPI. It is estimated that more than 400,000 boxsets containing between two and five CDs, some with DVDs, which sold for around £12 a title, were imported during the fraud.

"These types of counterfeits can fetch significant sums, but none of those involved in creating the music received a penny for their work. It is simply not acceptable for people to line their pockets at the expense of the music community and the creative endeavours of others should be respected and paid for. We're delighted the FPS chose to take on this case and hope that this successful outcome will serve as a deterrent to others. Brokers have a responsibility to ensure that they only deal in legitimate product and that they take precautions to ensure that they do so," BPI Director of Anti-Piracy David Wood, who ran the UK investigation said.

The conspirators now face an application for their assets under the Proceeds of Crime Act.