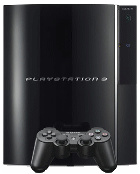 The next
firmware
update for the
PlayStation 3 (PS3
) console has gotten much hype over the past couple of weeks, as it turned it into the first official
Profile 2.0
Blu-ray
hardware. There has been a lot of interest in BD-Live even though only two titles are currently available that provide extra web-based content (
War
and
Saw IV
) and two are scheduled for release in April (
Walk Hard
and
The Sixth Day
).
There was some speculation that the update would also bring
"Portable Copy"
support to the
PSP
as indicated at
CES
2008, but that didn't happen. However, media integration with the
PlayStation Portable (PSP)
has been improved as reported and there is slightly better
DivX
support (file size limit addressed).
What didn't get as much media attention is the added support for
Low to High
LTH Blu-ray discs. These discs, included in
"Blu-ray Disc Recordable Format Ver.1.2"
specifications, use an organic dye recording layer. The technology will help to reduce the cost of making the discs because it eliminates the need for large-scale manufacturing plant investments, and will allow older modified
CD-R
and
DVD-R
manufacturing equipment to be used as part of the process.
Older Blu-ray hardware requires a firmware update to support these discs.