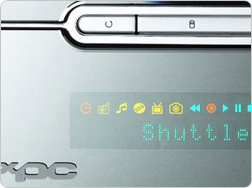 Shuttle has announced
the launch of its latest small form factor PC, the
XPC G5 6801M Vista
, which includes a dual format
HD
drive by
LG
allowing playback of both
HD DVD
and
Blu-ray
films.
The PC uses a
Radeon HD 3450
with full
1080p
Resolution
which can output in either
DVI
or
HDMI
through a bundled adapter.
Somewhat surprisingly, the Shuttle will run on an
AMD
CPU, with basic setups starting at a 2.2GHz Athlon 64 X2 all the way up to its latest 3GHz equivalent. "The system also comes with at least a dual
DVB-T
tuner for digital over-the-air broadcasts, a 320GB hard drive, and 2GB of memory." At its cheapest, with the Blu-ray/HD
DVD
drive, the 6801M Vista costs $1,721 USD and is available now.