Yet another new, innovative Internet music service has arrived.
PluggedIn
has launched with 10,000 free high-def music videos from studios such as
Sony BMG
and
EMI
. The service was launched by
Overbrook Entertainment
, which touts a partnership of music industry heavyweights
James Lassiter
and
Ken Stovitz
, as well as artist and award-winning actor
Will Smith
.
The site, now in beta, offers free music video
streaming
in
HD
at broadcast quality, which can be viewed full screen with a media player. PluggedIn also hosts over 1 million artist profiles. It has already gathered considerable attention in the industry, with
Pat Magnarella
(company founder whose clients included Green Day and the Goo Goo Dolls) calling the next generation of MTV.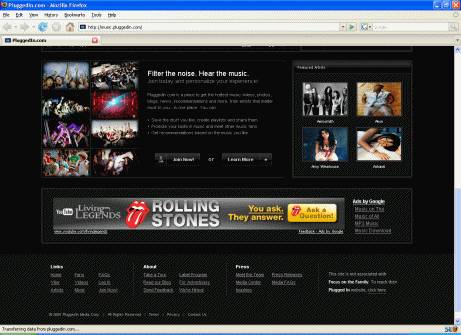 "Until now, watching HD or even broadcast-quality music videos on the Web has been nearly impossible,"
Jeff Somers
, CEO of PluggedIn, said in a news announcement.
"Today we're announcing a major step forward in the way that fans can connect with the high-quality content and artists that matter most to them. We're focused on building a unique experience for fans -- a place where they can meet and interact with each other, and where they can enjoy, discover, and share premium quality video content."
Users can also
buy digital downloads, CDs, merchandise and concert tickets using PluggedIn
. Content from Internationally-known artists including Green Day, Radiohead, Coldplay, Gorillaz, Chemical Brothers, Norah Jones and more is available on the new service.
Check it out:
http://music.pluggedin.com/
---
Get regular news updates from AfterDawn.com by
subscribing to our RSS feeds
using the
Subscribe
button below. If you have been living in a cave for a few years now and don't know how to use RSS feeds, then
Click Here to read a Guide on how to use RSS (and other) feeds
.