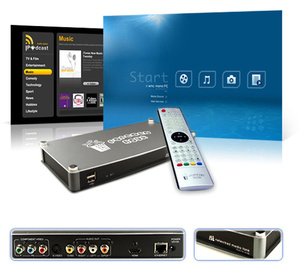 Yesterday, Popcorn Hour announced
that its only product, the highly anticipated
Popcorn Hour A-100 digital media streaming device
is now available for pre-order directly from the company's site.
For those unaware, the A-100 "allows for streaming digital media from users' PCs via a wide range of connectivity options, digital cameras or
USB
mass storage devices or directly from the Internet via its integrated Media Service Portal. The A-100 supports high-
bitrate
video formats, including
DivX
and
Matroska
, as well as subtitle files, with
firmware
upgradeable to future codecs."
More interestingly, the media hub can also act as a NAS device and
BitTorrent
P2P
downloader in place of a computer. For those features however, you will need to add an internal HDD. Using the device's
Media Service Portal
allows for IPTV compatibility with YouTube, Google Video and Metacafe.
Flickr and Photobucket, as well as a ton of video, audio, Internet radio and RSS feeds can stream content to A-100.
The A-100 "includes 256MB of DDR SDRAM along with 32MB of flash memory and is network-ready. A pair of
USB 2.0
plugs as well as a Parallel
ATA
port act as the physical interface options. Connections include an
HDMI
v1.1 input,
component video
in,
S-Video
, composite plugs, as well as coaxial and analog audio."
Available now for pre-order, the A-100 has a $180 USD price tag.