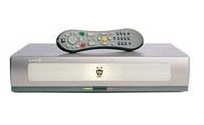 Later today DVR manufacturer
TiVo
is expected to announce a deal that will allow Chicago area residents to automatically record shows recommended by a local TV critic. Maureen Ryan, TV critic for
The Chicago Tribune
, will reportedly be selecting the programs, which will be recorded for area TiVo subscribers who sign up.
Although the service won't be available outside the Chicago area,
TiVo
CEO Thomas Rogers
says
they're working on similar deals in other markets.
From the newspaper's standpoint the deal is almost certainly a winner. Like many other publications they're facing touch competition from the on-screen guides that have become a standard part of cable and satellite television packages. This will give them a way to offer a more or less direct connection to viewers' TVs, making them more competitive.
Chicato Tribune
Managing Editor for Features, James Warren, is excited about the deal.
"Maybe we'll get a few people to do the unthinkable and subscribe to the newspaper,"
he said.
In addition to picking out the shows to be recorded, Ryan will also host a twice-monthly show talking about the selections.