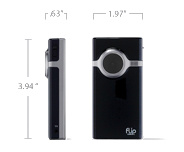 San Francisco's
Pure Digital
is introducing a new addition to their line of digital camcorders today. The ultra-compact
Flip Video
and
Flip Ultra
models have already been a big success thanks to equally compact prices of just $129 and $149 respectively. Their newest model, the
Flip Mino
, has a slightly higher price at $179, but an even smaller footprint, measuring just 3.94" x 1.97" x 0.63" compared to 4.17" x 2.16" x 1.25" for the
Flip Ultra
.
Besides boasting an even smaller size, the
Mino
adds an internal Lithium-Ion battery which is supposed to be good for 4 hours of use between charges. Both previous models use 2 AA batteries, with an estimated battery life of just 2 hours for typical alkalines.
Like the
Flip Video
and
Ultra
, the
Mino
includes software which allows video to be uploaded directly to
YouTube
or
AOL
Video after being transferred to a computer via
USB
cable. It also adds a similar capability for
MySpace
.
All of
Pure Digital
's camcorders encode video in
MPEG
-4 ASP format, which is the same standard that popular codecs like
DivX
and
XviD
are based on. At 640x480 the
resolution
is slightly lower than most
standard definition
digital camcorders, but also unlike most consumer models the video files produced are
progressive
rather than interlaced.