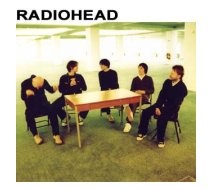 Despite
Radiohead
's recent experiment with a
new online distribution model
for their album 'In Rainbows' and embrace of
DRM
-free music, they've remained one of the last holdouts when it comes to selling individual tracks instead of full albums. In fact they were so adamant about it that
EMI
hadn't been allowed to sell their back catalog through
iTunes
because the service requires that consumers be given the choice to purchase every track individually.
With the recent success of the tracks from 'In Rainbows' on
iTunes
the band's stance has apparently changed. On Tuesday the songs from all of the band's
EMI
releases were offered on
iTunes
for the first time as DRM-free files.
Based on numbers from
Nielsen
Soundscan, 106,000 digital copies of 'In Rainbows'
have been sold
in the US through online retailers like and
Amazon.com
. Meanwhile 178,000 individual songs from the release have been sold. By comparison CDs have accounted for about 420,000 copies.
The newly available material includes the band's first six studio albums released between 1993 and 2003.