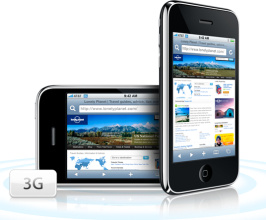 After the official unveiling of
Apple
's new iPhone 3G on Monday, arguably the most interesting difference from the original was the $200 price reduction. What Steve Jobs didn't mention during his WWDC keynote address was exactly how they managed to bring costs down far enough to make the new price feasible. As it turns out the answer to that question may be bad news for those who intend to unlock the phone for use on networks where the carrier doesn't have a deal with
Apple
.
Perhaps even more than the technology itself,
Apple
's sales strategy for the original iPhone was revolutionary, if somewhat flawed. Rather than relying on service providers like
AT&T
to subsidize the price and provide them directly to consumers they chose to charge consumers full price. Although this allowed them to sell the phone directly at their own
Apple
Stores, it also made it easy to purchase it without signing up for service at the same time.
For anyone who wanted to use the phone outside the six networks officially sanctioned by
Apple
it made things easier. By simply buying the phone with no service they avoided the hassle (and early termination fees) typically associated with cancelling a contract.
In order to bring prices of the iPhone 3G down they've adopted a different plan. Rather than selling the phone directly they're counting on service providers to subsidize the price, which means buying from a company like
AT&T
rather than directly from
Apple
. As is standard with such deals, customers will be required to sign up for service with the purchase of the phone.
Of course you can simply sign the contract and then cancel it after the purchase. While this typically results in an early termination penalty, in most cases the final cost (including the initial purchase and penalty) will probably be close to what you would have paid if you could buy it directly from
Apple
. For example,
given AT&T's
$36 activation fee and $175 early termination penalty the total cost of a $199 iPhone after cancelling the contract comes to $410. That's just a little more than the $399 pricetag for a comparable (and unsubsidized) first generation iPhone.
With the iPhone 3G being launched in 22 countries initially and 48 more by the end of 2008, the good news is there should be less demand for unlocking. But if you happen to live in one of the countries where exclusive carrier deals will still be in
force
, including the
United
States, United Kingdom, France, Germany, Spain, and Ireland, getting an iPhone to use on another network will require some extra effort - not to mention a little extra cash.