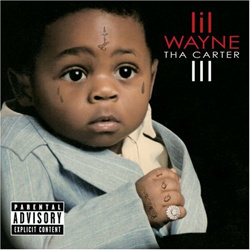 Despite another year of falling
CD
sales and the leaking of his album to
P2P
networks weeks ago, the prolific rapper
Lil Wayne
's latest CD,
"Tha Carter III"
sold 420,000 copies on launch day and has surpassed 1 million for its first week sold, marking the first time in 3 years that an album has sold over a million in its initial week. The sales also eclipses any other CD launched this year, including big ticket names such as Mariah Carey and Usher which sold under half of what "Tha Carter III" has.
Making the news even better for the rapper and the labels behind him, is that hip hop sales have been seeing the largest declines recently, down almost 25 percent year on year from 2007. Lil Wayne has not released a CD since 2005, but has been featured on over 70 other artist's songs in the last 12 months and has released tons of mixtapes.
"He stayed connected and nurtured his audience,"
said Sylvia Rhone, president of Universal Motown Records.
"He was always working. And I think the rabid following he's cultivated is reflected in those sales numbers."
"Tha Carter III" was leaked online in May, and many of the songs off the album have been on P2P networks for some time, but it appears that many have decided to support the artist and have purchased the album as well.

"I don't think Middle America got interested in him because his mixtapes were so great, but they forced serious rap fans to care about everything he was doing,"
said Sean Fennessey, the music editor at Vibe.
"Then he landed on a pop hit with 'Lollipop,' which was something he had never been able to do before. And between that and the serious rap fans, it became an event."
According
to BigChampagne (a company tracks P2P online activity), Lil Wayne has been the most pirated artist on P2P networks for some time now, with fans taking an average of 10 of his tracks.


"That speaks to the quantity of his output, which is plentiful, as well as the depth of his audience's engagement,"
said Eric Garland, BigChampagne's chief executive.
"If you're a fan, you're most likely a serious fan. And while people who like an individual song are not going to open their wallets for you, people who like 10 songs will. I think the mixtape phenomenon is great for feeding the machine, which is what the music industry is about in the 21st century."
That statement is a stark contrast to how the record labels feel. Record labels have been throwing millions of dollars into getting mixtapes removed from stores and street corners and for the most part discourage "unofficial releases". Maybe this hit will help them to change that way of thinking.