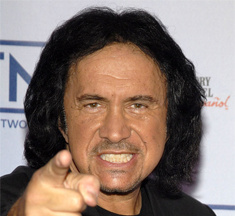 Last November we reported that
Gene Simmons
, founding member of the rock group
KISS
,
had gone off
on
Nine Inch Nails
,
Radiohead
and college aged pirates, going as far as to call Radiohead "idiots" and saying
"Every little college kid ... should have been sued off the face of the earth,"
for their unauthorized downloading of course.
He has followed his last tirade with some new comments, this time again blaming NIN and Radiohead but more importantly, the music fans.
"The record industry is dead,"
Simmons notes
"It's six feet underground and unfortunately the fans have done this. They've decided to download and file share."
He then insisted that the aforementioned bands were "contributing to the demise of the record industry" by using new intelligent sales models that apparently he does not approve of.
When asked why KISS had not released a new
CD
since 1998's 'Psycho Circus', Simmons added that
"there is no record industry around so we're going to wait until everybody settles down and becomes civilized. As soon as the record industry pops its head up we'll record new material."
Of course, he neglects to note that at every turn the "dead" music industry continues to push consumers away, using the
RIAA
watch dog to sue children, grandmothers, and even deceased members of society while failing to confront the real problems the industry faces.
It is also important to note that Radiohead and Nine Inch Nails' "idiotic" experiments have raked in millions of dollars for the bands, with little overhead and more importantly, no revenue sharing with the labels. They gave the fans what they wanted, and the fans responded. What a crazy model no?