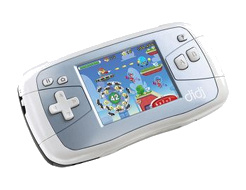 LeapFrog Enterprises
, manufacturers of a number of educational themed electronic toys, appear to be eyeing the more mainstream handheld game
console
market with the introduction of two new products, the Leapster2 Learning Game System and Didji Custom Gaming System.
Besides their emphasis on educational titles, the new cosoles are unique because they each target a specific age group. The Leapster2 is oriented toward 4-8 year olds, while the Didji is intended for kids between 6 and 10.
Like other handheld consoles the new
LeapFrog
models will have games featuring familiar properties ranging from
Sonic the Hedgehog
and SpongeBob SquarePants to Star Wars and Indiana Jones. Of course instead of the typical gameplay they'll feature educational problems and puzzles.
Besides copying the look and feel of other handheld games, the Leapster2 and Didji are also revolutionary for the educational market because of their web connectivity. In August
LeapFrog
will be launching a new online tool called Learning Path that will allow parents to keep tabs on how their kids are progressing with each game title.
"This summer, we are taking learning to a new level with the Leapster2 and Didj handhelds, offering parents and kids even more choice and capabilities. We have ramped up the gaming appeal and added online connectivity and new licenses that kids love, to provide parents a great way to get kids engaged in, and enjoying, learning,"
said Nancy MacIntyre,
LeapFrog
's executive vice president of product, innovation and marketing.
The Leapster2 retails for $69.99 and features games that sell for $24.99 each. The Didji sells for $89.99 with games priced at $29.99.