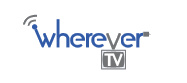 A new
set-top box
from
WhereverTV
allows viewers to watch internet-based TV feeds from around the world directly on their televisions. The company launched their website last year, where
streaming
video from providers all over the world is already available. With the introduction of the new set-top box the same content can now be delivered through a broadband internet connection to your TV without requiring a computer.
"The WhereverTV Receiver clearly defines a new era for the television viewer,"
said Mark Cavicchia,
WhereverTV
Founder and CEO.
"We believe WhereverTV will become a great source of entertainment and comfort for millions of immigrants living away from home, businesspeople traveling abroad, or anybody wishing to enjoy a wide variety of television programming from around the world."
Measuring a mere 5" x 5" x 1", the
WhereverTV
Receiver is even small enough to travel with. As long as you have access to a broadband internet connection that could allow you to watch familiar TV shows even when visiting other countries.
The
WhereverTV
Receiver retails for $199.99, and will be shipping from both the
WhereverTV website
and
Amazon.com
starting on July 15. There's no fee for the service, although you do have to supply the internet connection.