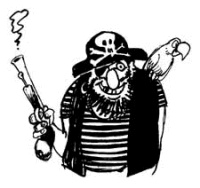 The Kyoto District Court has sentenced the second of three defendants for anime file sharing today, but has suspended the sentence for three years.
Kazuhiro Maki was sentenced to 18 months in prison for unauthorized uploading of
Gundam
and other popular animes over the once popular file-sharing program
Share
.
According to the
ruling
, Maki infringed on copyrights for at least 3 months by helping "countless" users download the anime footage originally aired on TV.
On July 16th, Judge Kōji Shibata ordered the first defendant, Moriyoshi Inoha, to serve 18 months in prison but also gave a three year suspended sentence. The third defendant, Takahiro Ōtomo, is still awaiting sentencing.
Share was once a very popular file-sharing program in Japan because it promised high anonymity for its users. When researchers began finding flaws in the program in 2006, its popularity died out.