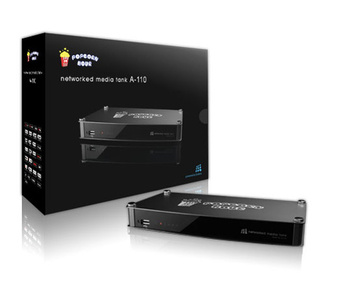 Popcorn Hour
has put two new items up for pre-order on their website today, including a revamping of their popular network media hub and a "barebones" version for users who want to use the hardware to build their own designs.
The new
A-110
changes colors to a sleeker
black
and adds support for
HDMI
1.3a output through
Dolby
TrueHD,
DTS
HD
Master Audio and other related lossless
surround
formats. The model also now has support for both 2.5-inch and 3.5-inch HDDs, optical
SPDIF
for audio, and adds a
USB
2.0 port to the back of the hub for users who want to keep it "hidden" from view.
Popcorn Hour continues to sell well and is in high demand due to its low price and its ability to support more formats then say, the rival
Apple TV
device. Popcorn Hour is one of the few media hubs with the ability to natively play
Matroska
and
XviD
and also offers direct access to
YouTube
and
Vuze
.
Users can share media over a wireless or wired network from
Windows Media
Center PCs, DLNA or Bonjour. The A-110 can also act as a
BitTorrent
client or a NAS device or even a web sever although you will need to add a hard drive yourself.
The A-110 is up for
pre-order now
with a $215 USD price tag but with no set release date.