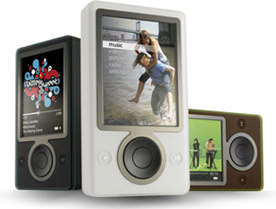 Citing slow sales of their
Zune
media player,
Microsoft
is turning to Hollywood to license original content exclusive to the player.
According to a
Reuters
report, the software giant has been sending executives out to all the talent agencies and production companies available to find video programming that can be used exclusively on the Zune, or at least launched on the Zune exclusively at first.
Instead of just looking for traditional programs such as sitcoms, Microsoft is looking for "nonconventional" programming that will capitalize on the device's excellent social networking platform.
Richard Winn, director of entertainment development for the Zune
added
,
"What we would be looking to do with any form of original content is the added component that Zune could provide that iTunes or any competing service couldn't."
Finding a way to separate itself from the rival
Apple iPod
is becoming paramount for Microsoft, especially as sales have slowed down to a crawl for the Zune media device. Since its launch in 2006, just over 2 million Zunes have been sold, whereas it is assumed that Apple sells 3.5 million iPods each month.