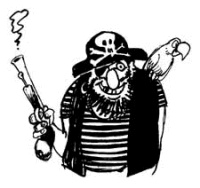 Kifah Maswadi
of Oakland, Florida was sentenced to 15 months in prison and ordered to pay US$415,900 in restitution for selling pirate video games. Maswadi reportedly sold game console systems with as many as 75 preloaded games, according to the
U.S. Department of Justice
. He
received his sentence
on Friday in U.S. District Court for the Eastern District of Virginia.
He was indicted on January 24th, and then pleaded guilty to copyright infringement offenses on June 3rd, according to the DoJ. The
"Power Player"
handheld consoles he sold contained games mostly from
Nintendo
and its licensees. He sold the consoles during 2006 and 2007, allegedly earning $390,000 in profits.
In addition to his 15 month prison term, the Judge also ordered Maswadi to serve three years of supervised release and inform the public of the perils of criminal copyright infringement as part of 50 hours of community service.