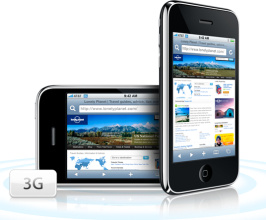 Apple Inc.
has set itself some high targets for the
iPhone 3G
model. After the model went on sale on July 11th, it quickly raked up 1 million sales. Analysts have made a wide variety of predictions about the potential success of the iPhone 3G model. The company intends to produce 40 million iPhone 3Gs in the next year, with analysts typically predicting about 11 million sales this year and 25 million next year.
Piper Jaffray
analyst
Gene Munster
has the most ambitious outlook for the iPhone 3G. Jaffray predicted that Apple will sell 13 million units this year and 45 million units next year. Of course,predictions could turn out to be way off the, but at least Apple's production plans seem optimistic.
Apple plans to manufacture between 40 million and 45 million iPhone 3G units in the 12 months through August 2009, according to a
BusinessWeek
source familiar with the plans. Apple boosted production plans due to stronger-than-anticipated initial sales for the phone. On launch day, the company had expected to produce 30 million units within 12 months.
Success for the iPhone however relies on many other issues, such as keeping the item rolling out in more countries worldwide and completely fixing some dropped call and coverage problems that have affected the device since launch. The iPhone may also reach the Russian and Chinese markets (legitimately).