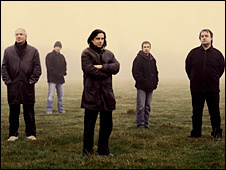 The British
rock band
Marillion
has announced that they will be offering their latest album as a free download through file-sharing websites.
The only catch, says the band, is that a
pop
-up will appear on your computer the first time the tracks are played with a link pointing to the band's website and encouraging them to submit their email addresses. Those who sign up would then be contacted with offers for concert tickets as well as other merchandise.
"We're willing to try new things and we want to see what happens,"
said
keyboardist Mark Kelly.
"Everybody's aware of the effect of peer-to-peer file-sharing on CD sales and the music industry in general,"
he added.

"Up until recently we've felt fairly immune to that because the fans have been really supportive of the band and, I suppose, because of the age demographic, they do tend to prefer CDs to downloads."
Just like
Radiohead
before them, they plan to release the CD as well, on October 20th.
"People forget Radiohead were still number one in the album charts,"
he added.


"They also say they weren't very successful because they only got an average of £2 per download.

"But they wouldn't have got £2 per sale from [record company] EMI, so in those terms it was actually a big success, and they still sold CDs."