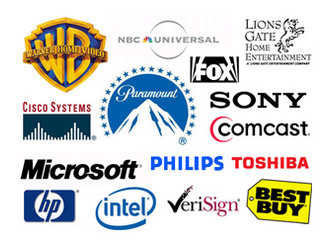 A consortium of media industry companies have announced their plans to bring the digital world together using what they call the
Digital Entertainment Content Ecosystem
, or
DECE
.
The consortium, which consists of media giants
Alcatel-Lucent, Best Buy Co Inc, Cisco Systems Inc, Comcast, News Corp's Fox Entertainment Group, Hewlett-Packard Co, Intel, Lions Gate Entertainment Corp, Microsoft Corp, General Electric Co's NBC Universal, Viacom Inc's Paramount Pictures, Philips, Sony Corp, Toshiba, VeriSign,
and
Time Warner Inc's Warner Bros Entertainment
are working on a "uniform digital media experience" but admits it will not announce any more details until the
CES
event in January.
DECE President Mitch Singer added however that the group wants "interoperability of devices and websites" and fair usage rights that will allow consumers to copy content for household playback devices as well as burn their purchased content to physical media for playback or storage.
Each consumer would also be given a "rights locker", a virtual library where all video purchases would be stored and available for download again if ever lost.
DECE will also have a logo that can be places on products and websites that will inform consumers on whether that site or product is compatible with DECE standards.


"We will be developing a ... specification that services and device makers can license. They can use the logo to associate their device, knowing that when the consumer goes to buy the content, they know it will play,"
Singer
added.
Singer noted that the new framework would destroy the current "closed"
iTunes
model headed by
Apple
.
"This is very different from the Apple ecosystem,"
he said.
"We encourage Apple to join the consortium. We don't ever anticipate Apple going away or this consortium replacing it."
Mark Coblitz, senior vice president of strategic planning for Comcast says a main
aim
is to give consumers back the comfort and simplicity they feel with a physical
DVD
, but with video downloads.

"They knew that when they brought (a DVD) home, they could play it on the device of their choice,"
Coblitz said.
"We see this vision of 'buy once, play anywhere.'"