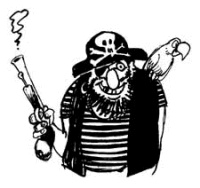 Kazushi Hirata of Kyoto, Japan has been charged with copyright infringement after he was arrested for illegally uploading the blockbuster movie "Wanted" with Japanese subtitles to the
P2P
file sharing application
Winny
.
The arrest of a "pre-release uploader" was the first of its kind in the country and Mr. Hirata faces a $100,000 USD equivalent fine and up to 10 years in prison if convicted.
The film was released in June in the US, but was released in Japan just yesterday. An
R5
(Russian retail
DVD
) release of the film has been available for months, but it obviously did not include Japanese subtitles which Mr. Hirata added himself before releasing on Winny.
The authorities were alerted to Mr. Hirata by the
Japan and Intl. Motion Picture Copyright Assn. (Jimca)
. The group says that pre-release uploads are becoming a major problem and that
"this year, Jimca has identified more than 30 movie files that have been uploaded to Winny before their Japan release dates."