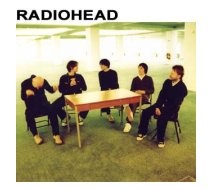 This morning 60 of Britain's largest pop stars announced they are forming the
Featured Artists' Coalition
, a group that will seek out greater control of the artists' music in the digital age.
Robbie Williams, Radiohead, the Verve and Kaiser Chiefs are just some of the members included in the Featured Artists' Coalition.
In a claim that many artists have been making for years, the group says it wants the artists to actually retain control over their music instead of the record labels having those rights. The group claims that artists are usually left out of the cut when their songs are distributed digitally, whether it be online or through mobile services.


"It is time for artists to have a strong collective voice to stand up for their interests,"
said
Brian Message, co-manager of Radiohead and the singer Kate Nash.
"The digital landscape is changing fast and new deals are being struck all the time, but all too often without reference to the people who actually make the music."

Jazz Summers, manager of The Verve, added that the group would
"seek to improve the treatment of artists within the business and campaign to update laws and practices that better reflect the new music landscape."

"Digital technology gives artists the opportunity to control their future — this is the time to seize that opportunity."