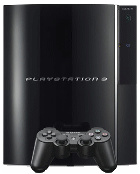 Sony Computer Entertainment (SCE)
UK boss
Ray Maguire
has said that Sony must work harder on promoting the cross-platform functionality between its home console, the
PlayStation 3 (PS3)
and the
PlayStation Portable (PSP)
. When the PS3 was first launched, more emphasis was put on the functionality between the two devices than now, as the focus has moved more towards the game line-up than PS3 features in order to boost sales.
"When we first started - because all the functionality [on the PS3] was radical - we talked about that functionality,"
he told
GamesIndustry.biz last month
.
"And in doing that, maybe we weren't strong enough on the games side of it. Now, with the strength of the games we've got coming out, this Christmas we're definitely about the games. From our own first party, and also third party, there's a feast of games for PS3 this year."
He continued:
"At the same time though, because we've been out for a couple of years now, people are starting to understand and discover the functionality of things like PlayTV, and that's created the desire for people to upgrade to larger hard disk sizes. I just recently put a 320GB drive in mine. I think people are starting to come to grips with that, but what's probably lesser known is the relationship between PS3 and PSP and the Remote Play functionality."