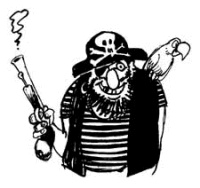 11 pirates, considered the "world's biggest" software pirates, have been sentenced to jail time today by the Futian People's Court in Shenzhen, China.
The group were 'ringleaders' in a counterfeiting syndicate that specialized in 'high-quality' fake Microsoft software. It is estimated that the pirates manufactured over $2 billion USD worth of counterfeits.

The sentences, the longest ever for intellectual property crimes in China, ranged from 1 year to 6.5.

The counterfeits were found in 36 separate countries on five continents and were produced in at least 11 languages.

The Chinese Public Security Bureau (PSB) was responsible for tracking down the pirates and the bureau claims "tens of thousands" of buyers verified the software was fake using Microsoft's Windows Genuine Advantage.