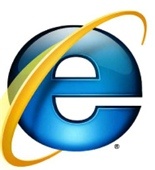 Marking the seventh consecutive month it has done so, the
Internet Explorer
browser has lost even more market share to its competitors
Firefox, Safari
and
Chrome
.
Internet Explorer dropped to 67.55 percent of global browser market share,
down from 68.15 percent at the end of December
and down from 77 percent at the beginning of 2008.
Firefox moved up subtly to 21.53 percent,
Safari
jumped higher to 8.29 percent, and the four month old
Google Chrome
browser jumped to 1.12 percent
The browser has lost a massive amount of market share over the past few years, falling from its peak of 94.43 percent in 2003.