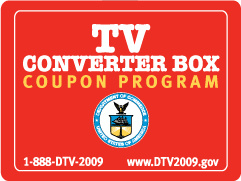 A website which specialiazes in electronics reviews and ratings is offering a unique solution for US residents who
need DTV vouchers
. They're offering to match people who need the coupons with those who have already received theirs but won't be using them.
When the DTV Delay Act passed the US House of Representatives
last week
there were still more than 2 million people on the waiting list to receive government vouchers for DTV converters. If you're one of thoe people Retrevo's program isn't meant for you. In fact their website notes it's illegal to get more than two vouchers per household, regardless of the source.
But if you're not already on the waiting list, time may not be your only concern. The DTV Delay Act only extends the amount of time before analog signals switch off. The money for the voucher program remains the same.
At the same time it provides a provision for replacing vouchers that expired before being used, making even more people eligible to get on the waiting list. There have been bills proposed to either increase the money available for the voucher program or give a tax credit for the purchase of a converter box. So far though, none of them appears close to becoming law.
If you don't want to take your chances that there will be money for a voucher by the time they get to you Retrevo's
Coupon Exchange Program
may be just what you need. You simply provide your email address and zip code and they try to find someone close by with one or more vouchers to spare. This may be a cable or satellite subscriber who didn't realize they don't need it when they signed up or perhaps someone who didn't realize their new TV already has a digital tuner.
Once they find a potential match they'll give your information to that person and they can arrange to get your coupon to you. Obviously this also means they're looking for donors, so if you have a voucher you're not planning to use they will put it in the hands of someone who needs it.