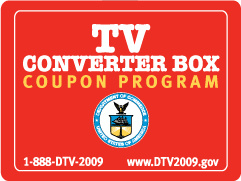 The DTV Delay Act, which passed both the
US Senate
and
House of Representatives
recently, was supposed to ensure consumers who won't be prepared for the DTV transition on the original February 17 date would still be able to watch TV. But today when the FCC released the list of broadcasters who are hoping to turn off their analog signals by that date anyway that's not how it looked.
According to the FCC announcement 190 stations were already cleared to go all digital prior to the original deadline. Nearly 500 more have informed the FCC they still plan to keep the original schedule and make the transition on February 17. In total 681 stations, more than a third of all full power broadcasters in the US, intend to stick with their original plans.

There's no guarantee all these stations will be allowed to go through with the transition early. The rule changes that go along with the new transition date allow the FCC to force stations to wait until June 12 if commissioners feel it would be "contrary to the public interest" for them to switch over early.

It seems likely the FCC won't allow that many stations to switch this month. That raises the question of whether there may be lawsuits by broadcasters who are stuck with additional expenses stemming directly from the Federal Government's sudden change of plans.