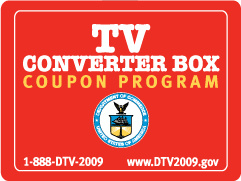 The biggest milestone to date in the US DTV transition will be passed today. Before midnight tonight 421 analog TV broadcasts will be shut down. Combined with the 220 stations that have already switched that will mean more than a third of broadcasters are already all digital.
Despite
the passage
of the DTV Delay Act earlier this month many broadcasters have chosen to stick with the original February 17 transition deadline. There were actually 491 stations still
planning to switch
today. The FCC
initially denied
123 such requests. After several broadcasters appealed that number was reduced to 70, with the other 53 allowed to continue as planned today.
Speaking about his agency's decision, acting Chairman Michael Copps said
"This is not just about whether people can watch their favorite reality show. It's about whether consumers have access to vital emergency alerts, weather, news and public affairs."
If you're not sure whether a station in your area is switching now you can find that information on the FCC's website. It's available either in
an Excel spreadsheet
or
a PDF document
. Stations are sorted by Nielsen (TV ratings) market.
If you're still not sure you're prepared for the switch you can make sure by reading our guide on
Preparing for the DTV transition
.