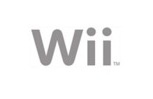 Nintendo
president Satoru Iwata has announced during his GDC keynote address that a new
Wii
firmware
update will allow gamers to run Virtual Console games straight from their
SD
cards, sidestepping the need for the company to release an external hard drive.
The new
Wii System Menu 4.0
will allow gamers to save and load games directly from SD cards, which at 32GB can hold up to 240 games.
During the same speech, Iwata noted that the Wii had finally passes the 50 million units sold mark, making it the fastest console to hit the milestone.
Additionally, Iwata added that the
DSi
has sold over 2 million units since
its release last year in Japan.