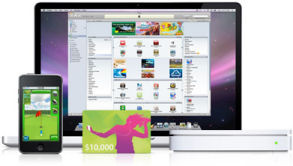 Apple Inc.
is currently
"counting up"
to a major milestone of one billion applications downloaded by
iPhone
and
iPod Touch
users from the App Store. It's hard to phantom that iPod and iPhone users have actually managed to download such a large amount of applications. To celebrate, Apple is giving away prizes in a contest to users who download Apps from the store before the tally crosses the 1 billion line.
At time of writing, the App Store is showing a total of
928,603,058
downloads overall, but it has been rising fast today. When you download an App, you are automatically entered for a chance to win
$10,000 iTunes Gift Card
, an iPod touch, a
Time Capsule
and a
MacBook Pro
. You can enter up to 25 times per day.
View the 1-Billion App Countdown Page
The company has also put up a list of the top 20 Apps from the App Store of all time.
| | | |
| --- | --- | --- |
| PAID | | FREE |
| Crash Bandicoot Nitro Cart 3D | 1 | Facebook |
| allRadio | 2 | Labyrinth Lite Edition |
| Texas Hold'em | 3 | Touch Hockey: FS5 (FREE) |
| Ocarina | 4 | Google Earth |
| iBeer | 5 | Shazam |
| Enigmo | 6 | Flashlight |
| Koi Pond | 7 | PAC-MAN Lite |
| PocketGuitar | 8 | Remote |
| Super Monkey Ball | 9 | iBowl |
| Flick Fishing | 10 | Tap Tap Revenge |
| WiFiTrak (Find FREE WiFi) | 11 | Free Translator |
| Brain Challenge | 12 | Crazy Penguin Catapult (FREE) |
| Asphalt 4: Elite Racing | 13 | Lightsaber Unleashed |
| MONOPOLY: World Edition | 14 | Backgrounds |
| Cro-Mag Rally | 15 | Audio A4 Driving Challenge |
| Real Football 2009 | 16 | Fastlane Street Racing Lite |
| Moto Chaser | 17 | iHandy Level Free |
| Fieldrunners | 18 | AroundMe |
| Face Melter | 19 | fring |
| Tiki Towers | 20 | Sudoku (FREE) |