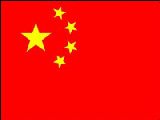 According to a publication by
Pearl Research
, China's online video game market swelled to $2.8 billion in 2008, up 63 percent over 2007.
"Trends to track in 2009 include the growth of social networking sites in China, with over 55 million users, and their cross-pollination with games,"
said
Allison Luong
, Managing Director of Pearl Research.
Luong continues:
"One overall concern is the lack of diversification with many game operators relying on a single title for the bulk of revenues. In addition, a glut of content with more than 200 games on the market, makes releasing a breakout hit increasingly difficult."
The
"Games Market in China"
study goes on to predict that the market will rise to $5.5 billion by 2012. The economic downturn in China has not adversely affected revenue for gaming companies.
Tencent
,
Changyou
,
The9
,
Netease
,
Shanda
and
Giant
all brought in over $200 million in revenue during the year.
Fantasy Westward Journey
took the crown for the most concurrent users, adding up to 1.8 million players. It was followed by
Zhengtu Online
with 1.5 million and
Dungeon and Fighter
at 1.2 million.
World of Warcraft
amassed 1 million.
Games Market in China 2009:
Download!
(PDF warning!)