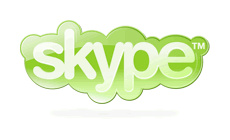 eBay
commented on the future of the
Skype
VoIP service on Tuesday, indicating that it intends to spin-off the subsidiary through an initial public offering. The emergence of this news casts doubt on any potential sale
back to the original founders
, who reportedly were keen to get their hands on the service once again. eBay had made some indications in recent times that it might sell Skype.
Shareholders will be pleased with the news, as they have been
pushing for a sale of Skype
or a spin-off.
"We believe operating Skype as a stand-alone publicly traded company is the best path for maximizing its potential,"
eBay Chief Executive
John Donahoe
said in a statement. He added that there were few synergies with the larger company.
eBay acquired Skype in 2005 for $2.6 billion from
Niklas Zennstrom
, from Sweden, and
Janus Friis
, from Denmark. When eBAy signaled it may be ready to unload the company for the right price, Zennstrom and Friis reportedly began seeking to raise a billion dollars from private equity firms. The auction giant was reported to be expecting no less than $1.7 billion for the company.
Skype made $145 million in revenues for the fourth quarter of 2008. It boasts 405 million users, up sharply from the 53 million registered users at the time of its sale.