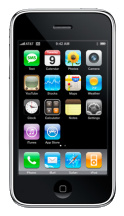 AT&T is rumored to be negotiating with Apple to extend their agreement to be the US iPhone provider. The carrier's exclusive contract is currently set to expire in 2010. According to the Wall Street Journal, AT&T CEO Randall Stephenson is hoping to extend it another year.
Although the plan to work with just a single mobile phone provider per country was scrapped by Apple with last year's
iPhone 3G launch
, that doesn't mean they aren't still interested in such exclusive arrangements.
This appears to be part of AT&T's strategy to concentrate on mobile customers, rather than their traditional landline business. In a recent interview, Stephenson
noted
"We have 77 million wireless customers and 30 million consumer phone lines,"
asking
"which customer base would you rather work from?"