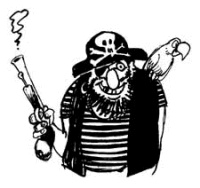 Gerardo Arellano
and his wife,
Maribel Fernandez
, both 32, were arrested after being caught by police
officers
recording the
Hannah Montana
film at a cinema in
South Barrington
. A subsequent search of the couple's home turned up 44,000 CDs and DVDs containing pirated movies, as well as
DVD
duplicating equipment, Assistant State's Atty.
Adam Klugman
said at the bail hearing.
"Apparently, he wasn't taping this for his own personal use,"
Klugman said. Arellano is a restaurant worker who lives with his wife, three kids and his mother. He denied that he was involved in any piracy scheme, claiming that the mountain of discs found at his home were owned by his mother.
"My mother saved all of the DVDs, CDs and videos,"
Arellano said.
"She saves those."
Authorities also found that Arellano's computer had a link to a Web site in France that sells pirated films. Cam copies of movies are the main source for pirate copies of new movies showing in theaters, according to
Angela Martinez
, a spokeswoman for the
Motion Picture Association of America (MPAA)
.
"People have made a business out of this, and as the camcorders get better, the quality gets better,"
Martinez said.
"It's how most movies are stolen."
Arellano has been
charged
with criminal use of a motion-picture facility, unlawful use of a sound-recording device, computer fraud and online sale of stolen property.
His bail has been set at $20,000. His wife was charged with criminal use of a motion-picture facility. The MPAA estimates the street value of the goods found at his home to be in around $50,000.
"I was surprised when they had arrested us,"
Arellano said.
"I didn't think I did anything really wrong."
He claims he was making the recording for his kids, who are Hannah Montana fans, and that the quality was not professional.