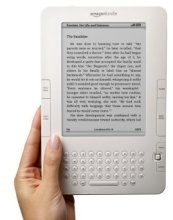 Market research firm
iSuppli
has done one of its popular
teardown analysis
' on
Amazon
's
Kindle 2
eBook reader, and come to the conclusion that it costs twice as much to buy as it does to manufacture. The Kindle 2 retails for $359 but only costs $185.49 to build. Around 300,000 units have shipped since the device was launched, indicating that Amazon as taken in more than $100 million from sales.
All the parts that make up the Kindle 2 come to about $176.83, and $8.66 is added for components, including battery and the manufacturing costs. The analysis did not guess figures for IP costs, royalties, shipping costs or marketing costs however. There are more than 230,000 books, magazines and other material available to buy for the Kindle 2, up dramatically from its predecessor.
A single charge will allow a user to read for up to 4 days with the wireless feature switched on, or up to two weeks with it switched off.
"The new version of the E Ink display in the Kindle 2 supports 16-level grayscale images, rather than the four-level version used in previous-generation hardware,"
Andrew Rassweiler
, a director and analyst at iSuppli said.
"In terms of pricing –- we perform pricing analysis at the manufacturing level,"
said
Wayne Lam
, senior analyst for iSuppli's teardown services.
"That is to say, our analysis reflects the economics of the supply chain far removed from the consumer or retail level."
He
continued
:
"The Amazon Kindle is the first (wireless) networked e-book reader we have analyzed; there is currently no comparable device in our library we can use to compare against. We have analyzed one other E Ink-based book reader, but it is about a year old. The obvious device that draws comparison is the Sony e-book reader, but we have not yet performed a teardown on that device."