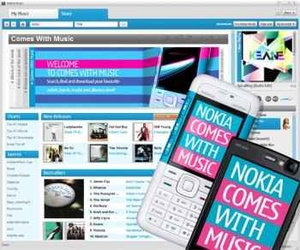 Nokia
's
Comes With Music
mobile music download service has gotten a very slow and disappointing start in the UK. While Nokia did not reveal official statistics itself,
Music Ally
claimed yesterday that Comes With Music has only gained 23,000 British subscribers since launching last year.
Paul Brindley
from Music Ally revealed the information at an Association of Independent Music conference in London.
"If anything I was rather kind in not saying it was a complete catastrophe. It's a big disappointment because very rarely, if ever, have we seen a digital music service that's been so widely promoted in the mainstream media,"
Brindley said.
Tim Grimsditch
, head of product marketing for Nokia Music was there to give his response too.
"We didn't release those numbers so we can't confirm them,"
he explained.
"It's a very new business model, we're live in five markets and the numbers only mention one. We're going to continue to develop the model and fine tune how we market it."
Grimsditch added that he is confident the company will have significant successes to report within six months time. A customer who buys a Nokia Comes With Music handset gets unlimited music downloads to their mobile phone for 12 to 18 months. The downloads are
DRM
protected, so they can't be used with other devices. Brindley
criticized this fact
.
"People just want to be able to do what they want to do with the music. Consumers will ask, why can't I put this on my iPod? Obviously, Nokia wants to use this as a way to get people away from using music on their iPods,"
he said.
"But as a music service in itself, Comes With Music just hasn't hit the mark."