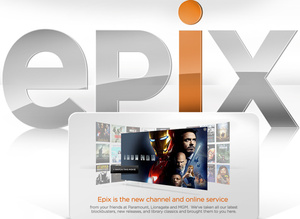 Three major motion picture studios,
Lionsgate, Paramount
, and
MGM
have jointly announced the launch of
Epix
, an
HD
online
streaming
service and HD TV station that will allow users to watch the studio's films, for free, in HD.
This may sound similar to
Hulu
except there is no advertising, and you won't see any charges. The service is bundled directly into cable subscriptions, and
the movies
will air before they even hit
DVD
, like a standard televsion PPV.
Emil Rensing, chief digital office at Epix, says the movies will also be available online in full
720p
streaming, at
EpixHD.com
.
Arstechnica
elaborates and says
"the video is offered through Flash and is multi-bitrate enabled; the player checks the available bandwidth every ten seconds to see if a larger or smaller stream is required. Epix currently creates six different encodings of each film which range from full HD support all the way down to 500Kbps (cell phone quality). In our own test preview of Iron Man, video was the best we have ever seen in a mainstream streaming service."
The only catch is that EpixHD.com will only be available to users who are subscribers to cable company's internet and TV services. Chances are you already are though.