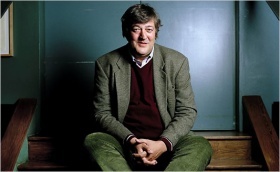 Stephen Fry, the popular actor, author and current gadget blogger has spoken out about piracy this week, defending non-commercial piracy and berating the media watchdog groups, who he claims are going about it all wrong.
The lashing, made at the
iTunes
festival, started with Fry giving a history of music copyright.
Fry started by saying, according to the
BBC
,
"that my business - the film business, the television business, the music business - is doing the wrong thing,"
in regards to arresting and criminalizing file sharers.
He then mocked the "preposterous"
MPAA
ads that claim
"You wouldn't steal a car"
by saying he can't believe the industry would be
"so blind... as to think that someone who bit-torrents an episode of 24 is the same as someone who steals somebody's handbag (or car)".
Fry himself admitted to downloading an episode of the popular series
House
,
which stars his old friend Hugh Laurie
and admitted as well to downloading a few episodes of
24
.
The actor also acknowledged that commercial use of pirated material should lead to prosecution, as profiting off the thievery of others work is unjustifiable.
Finally, he added that he truly believed that if prices of digital downloads fell to "fair levels," most people would pay for their music, and piracy would no longer be the "problem" it currently is.