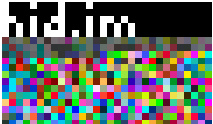 Hid.im
, a new online site, allows users to convert
torrent
files into
PNG
images, as a way to allow the uncensored, hidden upload of torrent files to image hosting services such as
Photobucket
.
According to Michael Nutt, founder of the site, via
TorrentFreak
the site is
"an attempt to make torrents more resilient. The difference is that you no longer need an indexing site to host your torrent file. Many forums will allow uploading images but not other types of files."
To make it work, simply select the torrent file and submit it to the site, which will do all the dirty work. Hid.im does require that the file be under 250KB however.
Those trying to decode the message will need either a Firefox extension or through the site's bookmarklet.