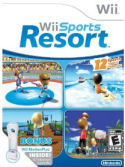 According to figures acquired by
GamesIndustry.biz
,
Nintendo
's
Wii Sports Resort
title has been very successful in Europe as well as its strong performance in North America and Japan. The company revealed that it has sold more than 600,000 copies of the
MotionPlus
-enhanced title in Europe since it was release in July 24, taking just under two weeks to pass the 600,000 tally.
Within eight days of its release in the United States, the title sold over half a million copies. It is the third fastest selling game for the Wii platform in Japan as it topped the charts in the region for two straight weeks and caused a noticeable surge in the sales of Wii hardware.

In the UK, the game topped the all-format sales charts for two weeks running. The sales figures solidified it as the fourth most popular title for the platform to date in the United Kingdom.