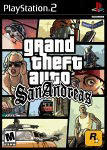 When a game modder found a piece of locked away code within the 2004 blockbuster
Grand Theft Auto: San Andreas
and produced patches to unlock it, who would have thought it would cost Take-Two and its insurers $20 million. Since the patch was released, Rockstar became the target of politicians such as
Hillary Clinton
, and the game was given an AO (Adult Only) rating instead of it's previous M rating due to the
"strong sexual content"
it then included.
Store shelves were re-stocked with copies of the game that did not include the unlockable code, which then carried the M rating. Now, five years after the this happened, Take-Two and its insurers
have agreed to pay $20 million
($4,915,000 from Take-Two and $15,200,000 from its insurers) to settle a class action lawsuit that stemmed from the controversy.
"We are pleased to have reached this settlement, which represents another important step forward for the company,"
said
Strauss Zelnick
, chairman of Take-Two, in a brief statement.