Toshiba Corp.
has unveiled a bunch of new products at the
IFA Consumer Electronics Tradeshow (2009)
in Berlin, including it's first
Blu-ray
stand-alone player and Blu-ray equipped multimedia laptop. A new
upscaling
DVD
player promising, "stunning, near-
HD
1080p
picture quality from standard DVDs" is also included in the new products, as well as an LED-backlit LCD television, three new Camileo HD camcorders and a new touchscreen Mobile Internet Device.
Here is some information, pictures and videos of the new products shown off by Toshiba.
Toshiba BDX2000 Blu-ray Disc Player
---

Toshiba UK
announced the launch of the
BDX2000
Blu-ray player, offering high image quality with a sophisticated design and underscoring Toshiba's commitment to High-definition entertainment and the Blu-ray format it once was fighting against. Of course, the player touts
full HD
1080p output and also the ability to play content at 24fps. Supporting
BD-Live
(
Profile 2.0
), the BDX2000 allows users to take advantage of interactive features through an Ethernet connection. It will become available in December 2009. The player will cost $250.
More Information
BD-Live (Profile 2.0) & BonusView
1080p Full HD Video Output
Toshiba REGZA-LINK (HDMI-CEC)
Deep Colour
1080p upscaling

Toshiba Satellite P500 Laptop with Blu-ray
---

Toshiba unveiled its latest addition to the
Satellite
range laptop series, the 18.4-inch
P500
multimedia laptop. The P500 is the first Toshiba laptop to feature a Blu-ray optical drive - providing full
high definition
(HD) support and playback. The multimedia laptop now takes its position as the top-of-the-range Satellite model, combining multimedia power with a striking exterior design. The features Blu-ray optical drive supports
BD-ROM
(normal Blu-ray discs),
BD-R
and
BD-RE
and DVD SuperMulti DL+/RW.
The Satellite P500 is also able to powerfully upscale
standard definition
content, such as DVDs, to near high definition quality. As for the hardware, the laptop is powered by the latest line of
Intel
Core 2 Duo chips, 4GB of DDR memory and support for HDDs up to a capacity of 500GB. NVIDIA graphics chipsets provides graphics performance on an 18.4'' TruBrite LCD screen, featuring a
resolution
of up to 1920x1080p for Full HD image playback at a
widescreen
aspect
ratio of
16:9
.
Peripheral devices can connect to the Satellite P500 via three
USB
2.0 ports. An eSATA/USB combo port ensures rapid file transfers, with USB Sleep-and-Charge also included to enable users to charge mobile devices when the laptop is switched off. Toshiba ConfigFree facilitates wireless network configuration via the embedded WLAN interface (
802.11
a/b/g/n) with diversity antenna or via Bluetooth 2.1+EDR, while additional connectivity includes a 5-in-1 Bridge Media port, Express Card slot, S/P-DIF and
FireWire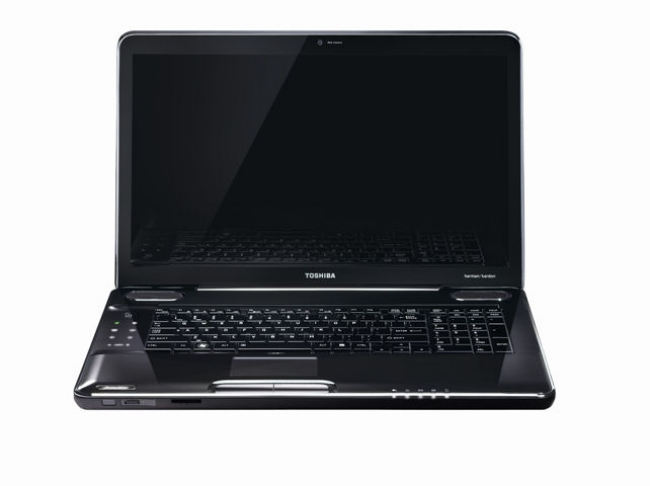 Toshiba XDE600 Upscaling DVD player
---

Toshiba's latest upscaling DVD player was unveiled for IFA too. The Toshiba XDE600 succeeds the award-winning XDE500, adding USB functionality in a new, slim-line design. Toshiba's
"eXtended Detail Enhancement' (XDE)"
technology promises stunning, near-HD 1080p picture quality from standard DVDs. Whereas the majority of upscaling players simply extend image resolution, Toshiba's XDE technology includes three additional video processes to deliver, "sharper, cleaner images with richer, more vibrant colours and contrast". Like its predecessor, it has three different picture modes of XDE technology...
Sharp Mode offers improved detail enhancement that takes content one step closer to high definition – creating sharper edges and ensuring that detail is more visible. Unlike traditional sharpness control, XDE technology analyses the entire picture and adds edge enhancement precisely where it's needed.
Colour Mode makes the colours of nature stand out with improved richness. Blues and greens are more vivid and lifelike, making the XDE600 perfect for watching nature and wildlife documentaries. Colour Mode combines the improvement in colour with the detail enhancement of Sharp Mode, delivering outstanding performance during outdoor scenes.
Contrast Mode is designed to make details in darker scenes or foregrounds more clearly visible without the typical "washing out" that can occur with traditional contrast adjustment. Perfect for dark scenes where detail may be difficult to notice, Contrast Mode is also combined with Sharp Mode to provide a sharper viewing experience.
The player is capable of upscaling to
720p
,
1080i
and 1080p, making it perfectly suited to any kind of
HD ready
TV. It can also play back
DivX
content. The player will be available from October in the UK for around £79.99.

Toshiba REGZA SG LED-backlit LCD TV
---

Toshiba UK announced the market arrival of the REGZA SV series in the UK at IFA, the first LCD TV with LED backlight from Toshiba UK. Available in 46" and 55" sizes, the new REGZA SV range features a premier version of Toshiba's new 'Deep Lagoon' design theme, which sees the exterior screen sitting flush with the front of the TV frame. The effect is produced by a Full Crystal Panel that sits over the front of the TV, creating a unique design effect while also improving contrast and colour ratios.
The inclusion of an LED backlight also offers dynamic contrast ratio of 2,000,000:1, with 10 Bit processing creating a palette of over a billion colours to completely eliminate banding. The REGZA SV series is powered by Toshiba's MetaBrain engine – a single chip solution capable of managing a number of innovative technologies simultaneously, including Resolution+, Active
Vision
processing and Toshiba's AutoView feature, which accurately measures room conditions alongside content to provide the best possible picture performance.
Toshiba's Active Vision M200HD compliments the LED backlight, combining intelligent backlight scanning to create ultra smooth 200Hz effect motion flow. Images are broken up into specific segments and black sections introduced into intermediate frames, which are quickly refreshed in tandem to provide efficiently managed, fast-moving pictures with no image judder.
The 4xHDMI inputs within the SV series also feature InstaPort technology, which significantly reduces the delay when an
HDMI
source is accessed – ensuring content appears on the screen immediately as the HDMI input is selected. Toshiba REGZA-LINK (HDMI-CEC) technology ensures that REGZA SV series models can be controlled as part of a HDMI-CEC home entertainment system, using just the one remote control.
More Information
46-inch and 55-inch (1920x1080p)
MetaBrain Engine
Resolution+
Active Vision M200HD Pro picture processing technology
LED Backlight
Deep Lagoon design
2,000,000:1 Dynamic Contrast Ratio
10 Bit colour processing
4x HDMI
PC Input
Dolby Volume
Dolby Digital Plus
AutoView technology
USB Plus (JPEG, MP3, DivX)
SD Card (JPEG)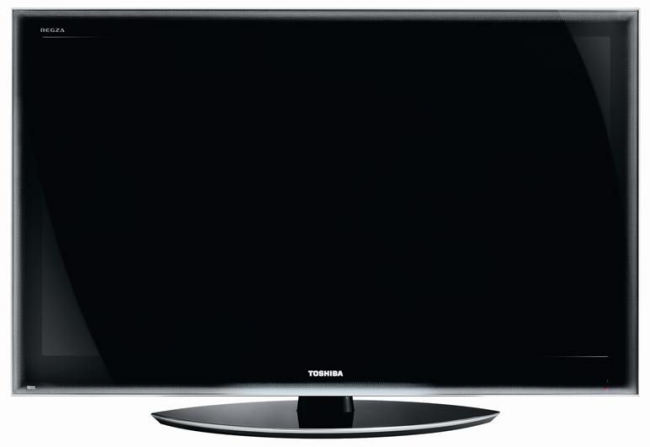 Toshiba Camileo HD Camcorder Trio
---
Toshiba announced three new Camileo Full HD digital camcorders; the Camileo S20, H30 and X100 models. All three of the new camcorders offer Full HD resolution (1920x1080p), with the S20 being one of the slimmest HD camcorders in the world.
Toshiba Camileo S20

Sporting a thickness of just 17mm, the Camileo S20 is easily one of the thinnest HD camcorders in the world, featuring a 5
megapixel
CMOS censor, allowing it to shoot full 1920x1080p High-definition content. It features 4X digital zoom.
Full HD resolution (1920x1080p)
Super Slim (17mm)
4x digital zoom
5MP CMOS sensor
3" rotating LCD screen
HDMI
YouTube upload function & hot-key
SDHC compatible
Will become available during Q4 2009 for around £119.99.
Toshiba Camileo H30

The Camileo H30 features a 10MP CMOS sensor that captures images at Full HD resolution, with 5x optical and 4x digital zoom available to let users get closer to distant subjects. A slick menu system offers easy navigation of shooting modes and features, while a 3" LCD TFT touch-screen allows users to view captured video.
Full HD (1920x1080p)
10MP CMOS
5x optical zoom lens
10x digital zoom
3" LCD touch-screen panel
HDMI
YouTube upload function & hot-key
SDHC compatible
Will become available during Q4 2009 for around £189.99.
Toshiba Camileo X100

The Camileo X100 features a 10MP CMOS sensor with a powerful 10x optical zoom lens to deliver images at 1920x1080p Full HD resolution at 30fps. A further 10x digital zoom expands the zoom up to 100x overall, making the X100 perfect for shooting subjects that are beyond the reach of most camcorders.
Full HD resolution (1920x1080p) at 30fps
10MP CMOS sensor
10x optical zoom
10x digital zoom
LCD touch-screen panel
HDMI
YouTube upload function & hot-key
Built-in 4GB Flash memory
SDHC compatible
Will become available during Q4 2009 for around £269.99.
Toshiba Journe Touch Mobile Internet Device
---

Toshiba unveiled the 7-inch Journe Touch. It is a multimedia touch-screen Mobile Internet Device. It allows users to view and share videos, pictures, listen to music, browse the web and access social networking platforms. It sports HDMI connectivity via an optional cradle allowing stored content to be displayed on any HD ready TV. The inclusion of Win CE 6.0 Pro provides the Journe Touch with a premium-quality, easy-to-use mobile operating system. Both clean and intuitive, the Win CE 6.0 provides an easy-to-navigate user-interface with extensive file format compatibility, ensuring that users will be able to play back a wide range of file formats using Windows Multimedia Player 9.0 software client.
The Journe Touch features a large 7" TFT touch-sensitive display, making it simple and easy to navigate the intuitive and user-friendly interface. A resolution of 800x480 and an LED backlight means that the 16:9 screen provides images that are crisp and vibrant, with a contrast ratio of 300:1.
More Information
16:9 Touch Screen Panel (800x480 resolution)
Wi-Fi 802.11 b/g Wireless
WinCE Pro + IE 6.0 (browser) +MSN (message/voice)
2200 m Ah Li-polymer internal battery
Memory Cards Support: SD, MMC, MS and MS Pro, xD (*SDHC: supported up to 32GB)
Internal Memory: 1GB Nand Flash
Docking station: HDMI TV out, Charging
Speakers: 0.5W Speakers (stereo)
Supported File Format:

Picture: JPEG, BMP
Audio: MP3, Video: Mpeg4. H.264

USB port:

1. A type USB 1.1(Host)
2. Mini-B USB 2.0 (USB device)
Will be available during Q4 2009. (No price information yet)