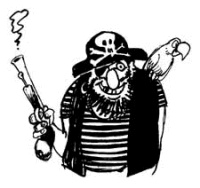 In an Open Letter sent to
The Times
last week, the heads of the major Internet Service Providers (ISP) in the UK, as well as representatives of the
Open Rights Group
,
Which?
and
Consumer Focus
, all protested to the plans to disconnect
"repeat offenders"
of
P2P
piracy from the Internet.
"Consumers must be presumed to be innocent unless proven guilty,"
the letter read.
"We must avoid an extrajudicial 'kangaroo court' process where evidence is not tested properly and accused broadband users are denied the right to defend themselves against false accusations."
The letter acknowledged the industry's legitimate concerns about illegal sharing of copyrighted material, but still said the government's proposals for dealing with the issue are
"misconceived, and threaten broadband consumers' rights and the development of new, attractive services"
.
"Without protections, innocent customers will suffer. Any penalty must be proportionate. Disconnecting users from the internet would place serious limits on their freedom of expression."
The proposal to disconnect file-sharers came from the
Department for Business, Innovation and Skills (BIS)
in late August.
BIS suggested that ISPs should pay a large amount of the costs of monitoring usage and for the legal mechanisms needed to decide which file sharers should be disconnected from the Internet. The open letter claimed that these costs, mounted on ISPs,
would need to be passed on to customers
, most of whom never use P2P software for piracy.
In a consultation launched by BIS in June to address the issue of copyrighted material being shared online, an estimate of £200 million per year in industry damage done by illegal file sharing was given. However, this figure relies on the premise that every single downloaded track represents a lost sale.