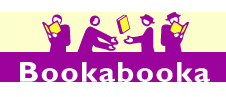 A Finnish textbook rental service
Bookabooka.fi
which allows students (and others) to rent, lend, sell or donate books has been partially shut down by the Finnish
Copyright Information and Anti-piracy Centre (TTVK)
. Bookabooka was forced to close its renting option due to a claimed copyright violation.
Bookabooka and TTVK are currently trying to find a solution that would satisfy both parties as well as the copyright holders. To settle it for now, Bookabooka offered to pay all income from rental books directly to a designated party.
The conflict was caused by copyright law which states that the author or other copyright holder has the right to determine whether the product can be lent or rented. There is no precedent on how this type of cases should be resolved, said Bookabooka in their
official blog
(in Finnish). Bookabooka does not own the books nor does it deal with shipment or money transactions, it only provides the information between the users.
The site is currently running without the renting option, but according to Bookabooka CEO
Vesa Kaartinen
, they are determined to figure out a way to reinstate the service as soon as possible.
Bookabooka was
targeted earlier this year
by TTVK calling them "Pirate Bay for textbooks".
The Finnish book publishers' association
also accused the site for threatening the €100 million a year textbook business.