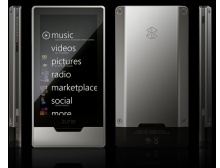 Microsoft
has confirmed to
Ars Technica
what the blogosphere has reported as rumor for the past few weeks; Microsoft has no plans to sell the
Zune HD
portable media player outside of the United States. With the first Zune model, Microsoft only managed to get the Zune as far as Canada.
"For the time being the Zune HD device will remain US-only,"
a Microsoft spokesperson told Ars.
"Right now we are focused on deploying an exciting service in the form of Zune Video to 18 markets. We are looking at potential future hardware experiences for these markets, but do not have anything to announce right now." Microsoft's other Zune models are to be discontinued in favor of the new Zune HD, which comes with 16GB or 32GB capacity.

When Ars asked about a rumored 64GB model, the spokesman said that the company has no plan to develop it right now. "We are constantly looking at other options and evaluating what consumers are looking for," said the Microsoft spokesperson. "That said, we have not announced any plans to offer a larger device."