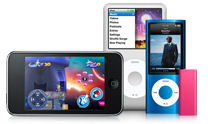 It was something of a mystery as to why
Apple
's latest changes to the popular
iPod Touch
did not include a video camera as expected, while the
iPod nano
did. Rumors and a mounting pile of evidence before the September 9
"Rock and Roll"
event pointed toward the camera being a certain upgrade, but
when the unveiling happened
, it turned out that not a whole lot seemed to have changed for the iPod Touch.
Explaining it to the
New York Times
, Apple CEO
Steve Jobs
commented that the reason for its exclusion was for marketing and cost reasons
. Basically, Apple was now marketing the iPod Touch as a portable gaming device, and adding a camera would increase costs. The cheapest iPod Touch now costs $199 to buy.
However, inside the new iPod Touch, there is space that seems to have been deliberately left for a Nano-like camera that would have been positioned exactly where it was expected to be. A
teardown by iFixit
revealed the camera space.
"It appears that Apple left in room for a camera in the top of the device,"
the
solutions provider said
.
"There is a 6mm x 6mm x 3mm space between the Broadcom chip and the wireless antenna. There isn't enough depth for an iPhone-style autofocus still camera, but just enough room for the camera that Apple used in the 5th generation iPod nano."
The new finding adds more weight to the rumor
that Apple had run into technical problems when trying to equip some of its iPods with a camera
. iFixit also made another interesting discovery: the presence of a
Broadcom BCM4329
wireless chip that supports
802.11n
. The new iPod Touch won't have all the features of 802.11n in use initially however, but instead would require a software update, like the enabling of Bluetooth in the second generation iPod Touch nine months after it was released.
Additionally, the iPod Touch was also hiding away an FM receiver and transmitter, that
"might"
make it possible for users of the new device to tune in their iPod music with a car stereo if no other option is available to them.