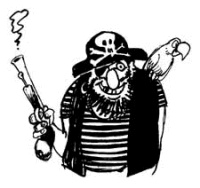 Porn companies from the United States and Japan have been very disappointed with the outcome of a complaint made against 10,000 Internet users in South Korea they accused of pirating their content. Prosecutors only managed to charge 10 people with breach of copyright following the complaint. The porn companies have come back and let their grievances known, and now plan to re-file the complaint next week, against 65,000 alleged violators.
The companies allege that the pirates have exploited their content for profit.
"Now, we've drawn up a new list of some 65,000 users who fit this guideline,"
lawyer
Kim Han-Seo
said.
"We'll see whether the prosecutors will press charges against them all."
He said that some users had managed to earn up to 30 million won ($24,170) from other users
"clicking on the pirated content."
If that allegation is true, then it is certainly a different offense than sharing files for free. Kim went on to explain their displeasure at the fact that South Korean authorities had acted swiftly and decisively after a local mainstream Blockbuster,
Haeundae
, leaked onto the Internet and was downloaded 100,000 times after.
"We believe that the prosecution should not be discriminatory in applying copyright laws,"
he said
.
"Illegal copying and distribution run rampant in Korea because it is one of the world's most wired countries. We decided to take legal action to minimize our past business losses and to protect anticipated future profits."