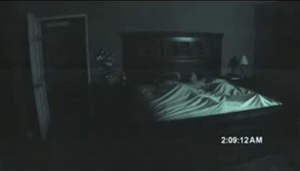 The unstoppable
force
that is
Paranormal Activity
has become (percentage-wise), the most profitable movie of all-time, domestically.
As of this morning, the low budget horror film has brought in $62.5 million USD domestically, even beating out the latest in the Saw franchise this weekend by a large margin.

The film cost about $13,500 USD to make, and its domestic distribution rights were bought by Paramount for a mere $300,000. Currently the movie is sitting on 462,000 percent profit, an astounding figure which just surpasses that of the Blair Witch Project which cost $35,000 to make and brought in $140.5 million domestically, a 400,000 percent profit margin.

Oversees figures are not added in the calculations as overseas rights were given to different distributors in both cases.

Making the numbers even more impressive is the fact that movie has not even been given a full run yet. It will be given another expansion next weekend for Halloween.

"I couldn't be happier with our team's great work. Adam Goodman believed in this movie and championed it from the first day he saw it. He recognized it was a great story with commercial potential, and made sure it had a home in our schedule and the release it deserved," added Paramount chairman Brad Grey.